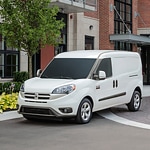 Capability features, with regard to the Ram ProMaster City, are great for efficiency, stability, towing, and power. Some capability-focused highlights of the Ram ProMaster City are its towing abilities, its bi-link rear coil suspension, its impressive towing capacity, and its Tigershark MultiAir 2 motor.
For Antigo, WI van drivers who have concerns about stability, then Electronic Stability Control will ease their minds. This feature is included with the bi-link rear coil suspension, and it addresses issues such as adverse conditions, oversteer, understeer, stability, and handling. Towing, on the other hand, is enhanced by the dependable 2,000-pound capacity that the Ram ProMaster City provides you.
Finally, the powertrain's efficiency is truly impressive to Brickners of Antigo, Inc's team. At 178 horsepower, your new van's MultiAir 2 Tigershark engine is certainly dependable. At 174 pound-feet, the Ram ProMaster City's torque is also outstanding, and it will contribute to your van's task-completing abilities.