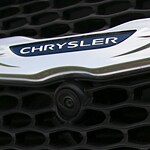 When it comes to the exterior of a minivan, there are few competitors that can offer as much as the new Chrysler Pacifica does. For example, the Tri-Pane Panoramic Sunroof offers upward nature views, and the bold Pacifica exterior colors make this Chrysler minivan stand out. Velvet Red Pearl and Ceramic Gray Clear Coat are two compelling Pacifica exterior paint options.
While your Chrysler Pacifica is rolling through Antigo, WI, the wheels feature a breathtaking foreshadow finish as well as six all-new designs. The Pacifica's wheel sizes range from 20 inches to 17 inches, depending on how elevated of a look you want your new Chrysler minivan to have.
For further exterior style, Brickners of Antigo, Inc suggests looking into either the S Appearance Package or the Pinnacle Edition of the Chrysler Pacifica. Each of these will provide you with a unique set of Chrysler minivan exterior features for your brand-new Chrysler Pacifica.