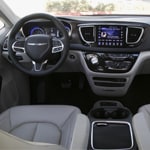 The Chrysler Pacifica remains a popular choice at Brickners of Antigo, Inc for modern families. This popular SUV has plenty of performance power that comes in handy when going on family outings. From towing to handling, the performance of the Chrysler Pacifica was designed for action.
This SUV has a towing capacity of 3,600 pounds, making it the best in its class when it comes to hauling the toys that families love. With all that towing power, control is a must. That's why Chrysler gave the Pacifica Electronic Stability Control. This feature gives you better handling in turns, and it can also provide braking or throttling when necessary to help drivers with control.
Now is a great time to visit us at our dealership in Antigo, WI for a closer look at the Chrysler Pacifica. You can call us today to schedule a test drive, and our friendly team will be happy to answer any questions you may have.