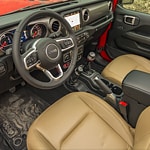 Are you dreaming of a classic top-down driving experience? The Jeep Wrangler has you covered. With multiple removable components, this popular compact SUV makes it easy to be one with the great outdoors.
Part of the fun of customizing your Wrangler is choosing which components you want to be removable. The top is the most common choice; in fact, every Wrangler features a top that you can fold down or take off completely. A manually-lowering soft top comes standard; you can also choose a removable hardtop or a power-lower soft top.
Need more? The Jeep Wrangler is also available with a fold-down windshield for maximum breeze during low-speed drives. If you like, you can also choose removable doors for the full open-air experience. We encourage you to come to Brickners of Antigo, Inc to see all of the options and go out for a test drive in Antigo, WI.