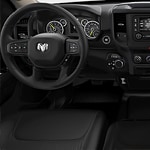 The full-size light-duty pickup remains a must among many truck owners. The vehicle is as comfortable on city roads as it is on the worksite. Ram creates the pickup with a number of trim levels and feature options. New owners enhance the safety level for all occupants by choosing selected technological amenities.
All of the Ram 1500 models have rearview cameras. The image displayed on the infotainment screen is helpful whether backing up during parking or desiring to hook up a trailer. Adaptive cruise control maintains a safe distance from traffic. The truck slows to match traffic speed automatically. But, when traffic resumes the posted speed, the Ram 1500 also accelerates.
The forward collision warning alerts drivers to potential dangers approaching the pickup or when venturing too close to obstacles. If drivers do not promptly respond, the automatic braking system intervenes to prevent a disaster. Learn about our Antigo, WI Brickners of Antigo, Inc Ram 1500 vehicles. Stop by and indulge in a test drive.